It's almost like cheating.
Active Build™
Giving your crop this much care and Attention may make others jealous.
Today's advanced growers are looking for ways to increase yield beyond traditional fertilizers. looking beyond nutrients, and are using biostimulants to unlock growth and yield potential at the molecular level.
Active BUILD™ delivers the early-season nutrients that young plants need to maintain strong, healthy growth and overcome early-season stress, including the stress following herbicide application. It promotes deeper root development, stronger stalks and increased foliage. The result? Measurably higher yields.
Why Active Build™
Stronger Growth
A high N-P-K concentration, supplemented with boron, manganese, zinc, and now Molybdenum, promotes root growth, stronger stalks and increased leafing, even under drought stress.
Reduced Transpiration
Active BUILD™ helps regulate stomatal function to reduce water loss. This in turn increases xylem pressure, resulting in a stronger, healthier plant.
Readily Plant Available Nutrients
Active BUILD™ provides Nitrogen and Potassium in easy-to-absorb complexes, with two different forms of Phosphorus.
Enhanced Root Network
It improves nutrient uptake by secreting root exudates into the rhizosphere. This increases availability and absorption of nutrients, especially those with poor soil mobility.
Increased Abiotic Stress Protection
Active BUILD™ combats stress conditions caused by drought, rapid growth, herbicide and other environmental conditions (see below).
Works Across a Wide pH Range
Simple organic molecules in Active BUILD™ act to buffer solutions in acidic and base soils – ensuring it maintains efficacy and functionality in most fields.


NOT YOUR AVERAGE FOLIAR NUTRIENT
Active BUILD™ is formulated with patented biostimulant technology. A "smart" bioactive molecule that strategically regulates key functions within the plant. Developed in Canada by the research team at Active AgriScience, it is synthetically produced, to ensure the highest levels of performance and consistency.
ADDED INSURANCE AGAINST DROUGHT
The risk of early-season drought is a legitimate concern for many growers, and can significantly impact growth and yield. Active BUILD™ stops the plant from waving the white flag in the face of stress – and instead equips it to fight back.
Active BUILD enhances root development, which casts a wider net to access soil moisture.
It inhibits the production of ethylene: a chemical that plants release in times of drought (ethylene weakens membranes, resulting in water leakage and wilting.)
Active BUILD™ increases water use efficiency within the plant.


PROTECTION AGAINST HERBICIDE STRESS
Herbicide stress occurs when plants dedicate their energy and resources to metabolizing herbicide, temporarily halting key plant functions such as photosynthesis (caused by the release of ethylene) and the release of root exudates. The patented biostimulant technology contained in Active BUILD™ restricts the release of ethylene, allowing photosynthesis to continue with minimal disruption. The high concentration of N-P-K and other minerals associated with cellular growth in Active BUILD™ also help counter the effects of herbicide.

DEMONSTRATED TO DELIVER RESULTS
Active BUILD™ is backed by extensive field testing. It has shown to provide a consistent increase in yield year-after-year.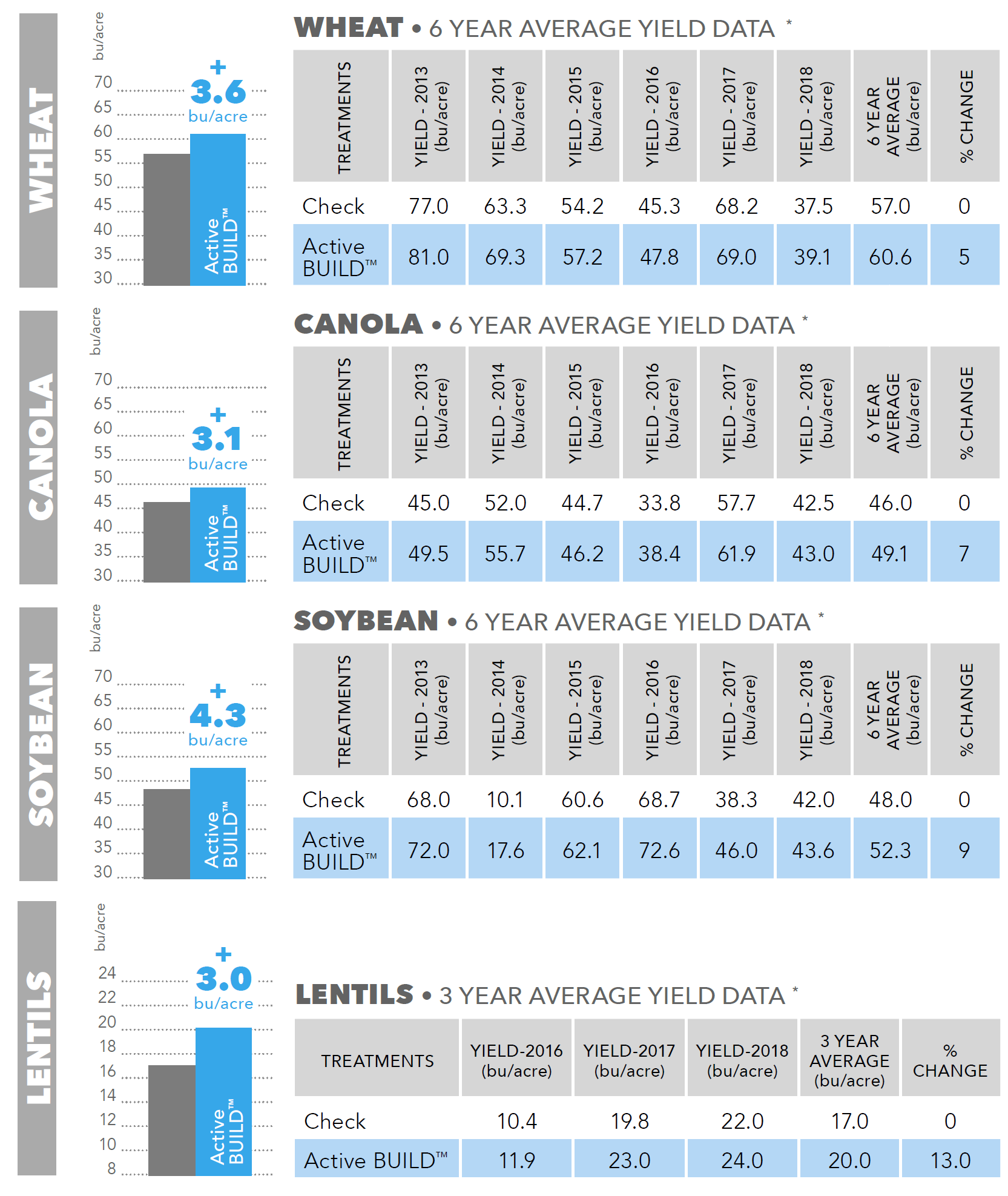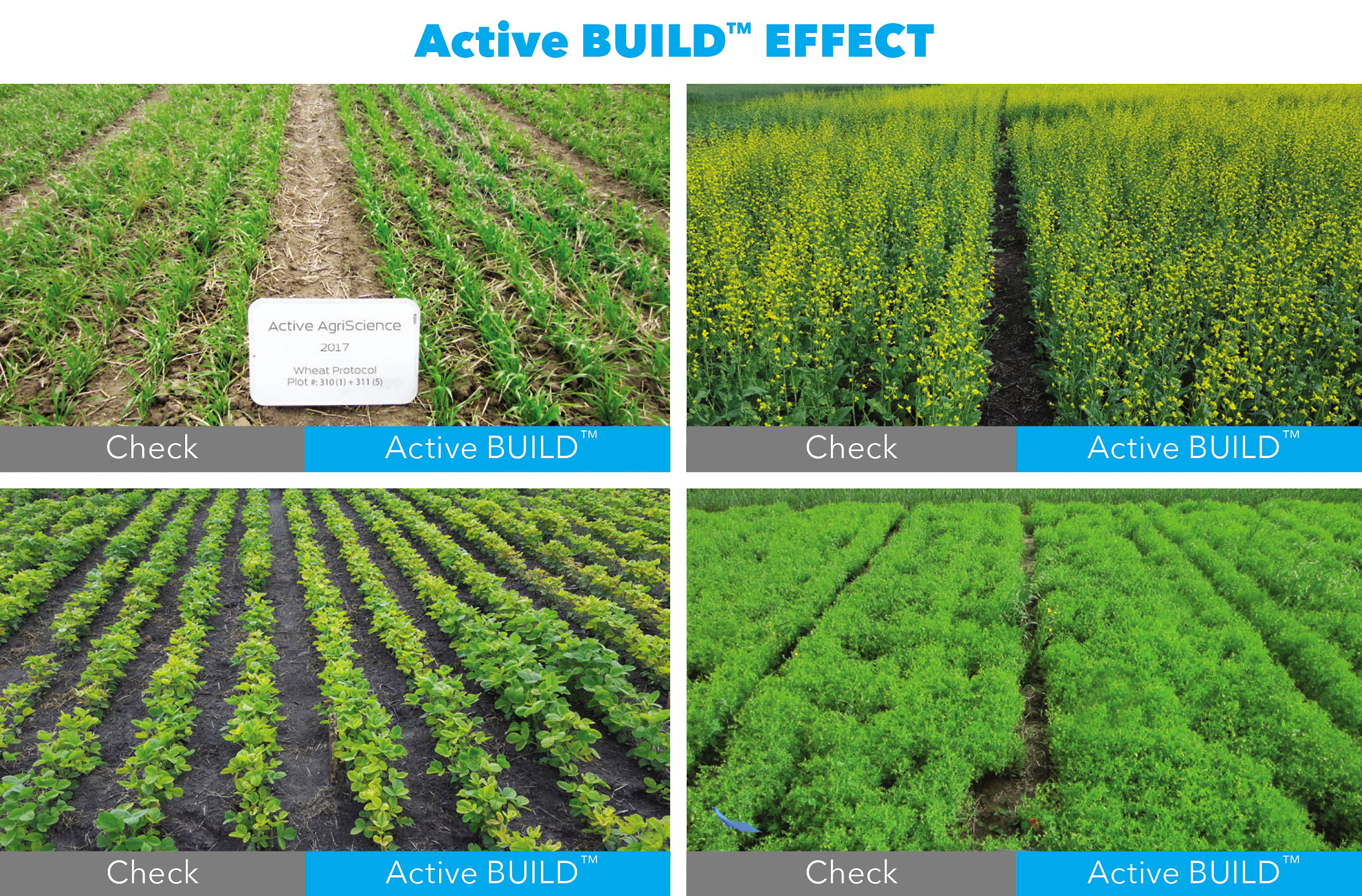 Application timing
Active BUILD™ can be applied as part of a herbicide or fertilizer application at the following crop stages:
Wheat, hops, corn, tomatoes, vegetables, tree fruits, tree nuts, berries: 3-5 leaf stage, BBCH 13-15
Canola: 2-4 leaf stage, BBCH 12-14
Soybean, pulses: first-second trifoliate, V1-V2


Compatibility
Active BUILD™ is compatible with most herbicides and fertilizers. For more information, see our compatibility chart.



recommended reading
Want to learn more? Visit the Taurus blog to read about the topics covered here in greater depth:
Can Crops be Protected from Abiotic Stress at the Genetic Level?
How Foliar Nutrients Minimize Seen and Unseen Herbicide Stress


Don't miss your window to boost crop performance
Fill out the form above or Contact a Taurus representative to learn more, and to find your nearest distributor of Active BUILD™