EASY TO USE ON SEED TECHNOLOGY
LEARN HOW AGTIV CAN HELP YOU GROW STRONGER CROPS
Reach More with the AGTIV line of inoculants. Increase crop quality, productivity and yield. A proud Canadian company with 35 years of Biological expertise. AGTIV inoculants are easy to use, effective, and deliver a defined return on investment. New this season AGTIV IGNITE, an endophyte inoculant for canola seeds. The first of it's kind in Canada.
---

IGNITE for Canola
After years of research and development, Premier Tech is introducing Serendipita indica, an endophyte inoculant that forms an association with roots of plants from the Brassicacea family such as canola. By inducing some of the plant gene expression, Serendipita indica promotes early seed germination, increases chlorophyll content, and improves plant establishment, growth and yield.
---

ON SEED INOCULANTS FOR PULSE CROPS
Liquid, granular and powder, containing Mycorrhizae and/or Rhizobium to enhance nutrient and water uptake, fix nitrogen making it available for the plant, increase stress tolerance and improve soil structure.
---

ON SEED INOCULANTS FOR SOYBEAN
Premier Tech is proud to widen the range of its ON SEED™ products with the addition of Bacillus to the active ingredient's family. Bacillus has been integrated within the AGTIV® BB COMBO for SOYBEAN allowing you to treat soybean seeds up to 30 days before seeding. Bacillus will produce a biofilm around the roots and stimulate the plant root system for better nutrients' absorption, earlier seed germination and greater plant growth.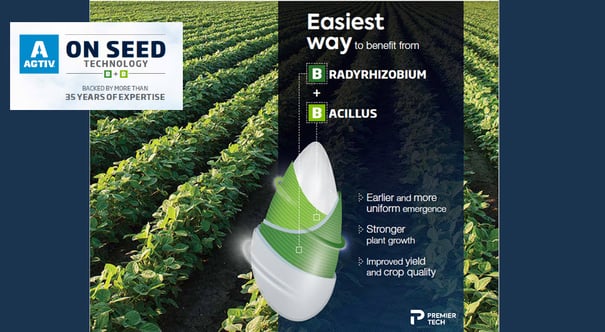 ---
---