free download.
get the taurus crop nutrient uptake and removal chart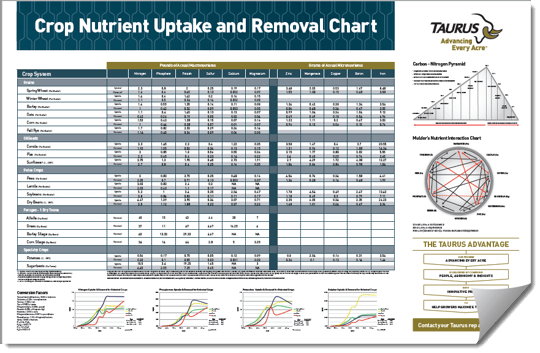 Achieving optimum nutrient levels is a balancing act. If you have too much or too little of any, it can have a significant impact on yield, crop quality and profitability.
To help you plan an effective fertilizer and nutrient strategy for the upcoming growing season, Taurus would like to offer you the Taurus Crop Nutrient Uptake and Removal Chart. We are confident you will be able to use it often as a comprehensive, at-a-glance reference tool.
It covers all key grain, oilseed, pulse, forage and specialty crops grown across western Canada. Our top-performing growers swear by it!
No other uptake and removal chart offers all these tools at your fingertips:
Data for 19 Crop Systems
Macro and micronutrient uptake and removal by

bushel of each crop

Visual comparisons of nutrient uptake and demand by crop
Mulder's Nutrient Interaction Chart
The Carbon-Nitrogen Pyramid
Common Conversions
Simply fill out the form to download your FREE pdf copy of this invaluable reference tool.